About the Limited Liability Partnership (LLP):
Limited Liability Partnership (LLP) firm is popular in many countries including India. The Limited liability partnership act was enacted in 2008 to give benefits to small businesses and Startups. Incorporation and the annual compliances of LLP are lesser than a private limited company. The LLP is a body corporate and incorporated under the Limited Liability Partnership Act 2008 and is a separate legal entity from its partners, hence liability of the LLP is separate from it partners. Whereas, in a normal partnership firm, the liabilities of partners are unlimited. An LLP is a separate legal entity, so any change in partners does not affect the existence, rights and liabilities of LLP.
We at Nitin Bhatia and Associates can help you with LLP Registration in Gurgaon, Delhi or PAN India.
Types of LLP
There are two types of LLP firms
Indian LLP firm: The Indian LLP mean an LLP registered in India or gurgaon under the Limited Liabilities Partnership act 2008.
Foreign LLP firm: A Foreign LLP mean an LLP registered outside India but having a place of business in India.
Benefits of LLP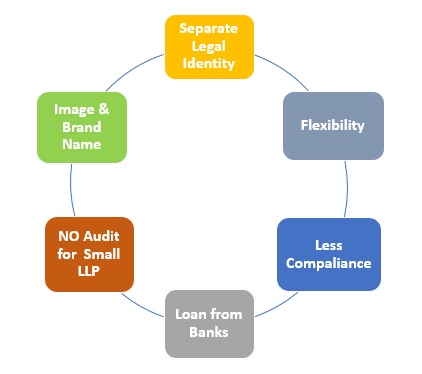 These are a few illustrative lists of benefits. We have covered some of the key benefits for you:
Separate Legal Identity: LLP is a separate legal entity and its liability and obligations are separate from its partners, So the partners of LLP have limited liability.
Flexibility: The LLP firm is more flexible than a private limited company. The salary and remuneration to partners, interest on capital and profit distribution are subject to the written agreement signed between the partners. Hence LLP provides more flexibility by changing the clauses to the agreement as per their decision.
Less Compaliance: In a Private Limited company there is regular compliance that needs to be completed on a monthly, quarterly, half-yearly and yearly basis, In the case of LLP, only two forms are required to be submitted annually. Hence formation and compliances of LLP become easy for the designated partners.
Loan from Banks: LLP can raise funds from Banks and financial institutions like Bank overdrafts, Business loans, term loans, etc.
NO Audit for Small LLP: Small LLP is not required to get its account audited if the turnover does not exceed, in any financial year, 40 lakhs rupees OR if contribution in the capital does not exceed 25 lakhs rupees.
Image & Brand Name: The name of the LLP is in itself a brand, however, you can give a brand name to your LLP which may be different from the name of the LLP.
Process of LLP Registration:

Below are the explanations for the above mentioned process diagram:
Step-1: Name availability application
The first step is to apply for name availability. You can apply for 2 LLP names on a priority basis.
Step-2: Take the Digital signature of the proposed partners
The digital signature of all proposed partners is mandatory and it is affixed on the form filing at MCA.
Step-3: File LLP incorporation form
A web-based form FiLLiP is filed online for incorporation of LLP. The form FiLLiP contains the particulars of LLP, details of designated partners, other partners' details and attachment and declaration from proposed partners. Form FiLLiP is filed along with Form 9 which is consent by the proposed partners to act as a designated partners.
Step-4: File LLP agreement
In order to submit web-based Form 3 we need to know about V3 website of MCA. The Form 3 is filed with LLP agreement's terms and condition within 30 days of LLP registration. Non-filing of Form-3 may attract a penalty.
The above steps have been diagrammed for easy reference;
Checklist for Incorporation of LLP
Details required of LLP
Address proof of the premises
Documents required for proposed Indian Partners
Documents required for Foreign Partners

Name of the LLP (subject to availability)
Type of services provided
Objectives of the LLP
Address of the LLP
Number of partners
Name of Partners

Electricity Bill
Property Papers
Rent Agreement
NOC the from Landlord in case of rented property

Identity Proof (anyone)
Pan card
Voter ID
Aadhar
Passport

Address Proof (anyone)
Latest Bank Statement (for 3 months)
Passport
Aadhar card
Voter's ID
Passport
Driving license
Telephone bills
Electricity bill
Rent agreement
Passport size photo for each partner
Qualification of proposed partners

Passport
Identity Proof (anyone)
Driving License
Residence card
Bank Statement
A government-issued form of identification containing the address.

In case the documents are in a foreign language then it must be translated by an official translator and notarised or apostilled.

Address Proof
Bank Statement
Electricity Bill
Telephone Bill
FAQs on LLP:
Question: Who can be a partner of LLP?
Answer: Any individual or body corporate can be a partner of an LLP firm.
Question: How many minimum numbers of partners are required to register an LLP firm?
Answer: Every Limited Liability Partnership firm shall have at least 2 partners.
Question: What if the number of partners gets reduced to 1?
Answer: If the number of partners gets reduced to 1 and the partner admits that LLP is working with a single partner for more than 6 months then the partner shall be personally liable for the obligation of the LLP incurred during that period.
Question: Can an NRI incorporate an LLP in India?
Answer: Yes, An NRI can incorporate an LLP in India, provided a designated partner should be from India.
Question: is a separate Designated Partner Identification Number (DPIN) required to incorporate LLP if you are already a director in a private limited company and holding Director Identification Number (DIN)?
Answer: No, Separate Designated Partner Identification Number (DPIN) does not require if you have already a DIN.
Question: Can a foreign LLP establish the business and carry on the business in India?
Answer: Yes, a foreign LLP can establish and carry on the business in India provided Form 27 is filed with the registrar of the company informing the set up of business in India.
Question: Can an Existing partnership firm be converted into LLP firm?
Answer: Yes, the Existing partnership firm can be converted into an LLP firm by filing Form-17 along with Form-2.
Question: Can LLP provide services only?
Answer: No, LLP can do what a private limited company can do. Like LLP can render services or professional services. LLP can also deal in goods. LLP can trade the goods or manufacture the goods.
Question: Can LLP do the charitable or non-profit business activities?
Answer: No, LLP is meant to do business with a view to earning a profit, So the LLP cannot have an objective of charitable or non-profit business.
We are one of the most reliable, fast and cost-effective services providers of LLP registration. If you are looking for the best LLP registration consultant, LLP registration services in Gurgaon, private, firm registration in Gurgaon, company registration in gurgaon, company formation in gurgaon and LLP registration cost in gurgaon then we can assist you.
You can contact us at casksinha91@gmail.com. Our team of experts will assist you in LLP formation and you will get satisfactory services from our professional experts.